Happy Father's Day!
"Dad, I have so many fond memories of times shared together: Backyard kickball, school projects, the living room light being on early in the mornings as you spent time reading and journaling, you painting late into the night and us waking up to a beautiful piece of art, stories of your childhood on long road trips, dreaming into owning a piece of land and your courage to make it happen.

Dad, you have taught me so much. You taught me to listen to the voice of the Lord in everything, to open my eyes to look beyond what something looks like now into what it could be, to have the work ethic to turn vision into reality.

The day that we decided to buy the Mill 133 property, you and Mom came out to see it. You told me to look into the blue sky, and you asked me what I saw. I said plainly,"I see a beautiful blue sky, but I also know there are stars, the moon, the sun and planets out there." With a twinkle in your eye, you said, "Exactly!"
Thank you, Dad, for teaching me the most important thing on earth: to listen to my Heavenly Father. By listening, God has continually given me direction to see beyond what my natural eyes can see, to be a wife and mom, to serve and love others well and to live a whole life. I love you, Dad."
-Dustie Gregson, Owner & Founder

"Whether you turn to the right or the left, your ears will hear a voice behind you saying, 'This is the way, walk in it'" (Isaiah 30:21).

Happy Father's Day to all the dads out there!
STAFF FEATURES:
We have the best staff in the world at The Table, and this month we have some hellos and goodbyes that are due.

Kateland & Lorene // Manager
As the Table's Manager of almost 3 years, Kateland, leaves us next month to start her beautiful journey into motherhood (she is having a baby boy!), our New Manager Lorene will be stepping into her shoes. Originally from Tennessee, Lorene and her husband, Jim, moved around a bit before landing in Asheboro 2 years ago. In her almost 2 years working at The Table she has been a food runner, shift manager and lots of other things. She has 3 adult children and 4 grandchildren.

Lorene shares, "My favorite thing about The Table is the people. I love working with Dustie and so many other talented, kind people. I'm thankful for the opportunity for growth; I can't wait to come alongside Dustie and help her in overseeing exciting new projects ahead."

Say a fond farewell to Kateland this summer and a friendly hello to Lorene the next time you see them!
 
Breahna // Front Counter
Breahna was a junior in high school when she started working at The Table 3 years ago. "I was living in the Asheboro Mill Lofts next door and was walking my dog down the street when Dustie stopped me and offered me a job. I was so happy, and I can't believe how different my life would've been if I hadn't said yes!"

She is leaving the Table this month and going on new life adventures with Youth with a Mission (YWAM) in Kona, Hawaii. Make sure to say, "Adieu!"
The Table's Market is featuring delicious jams this month from Eat This, an incredible, family-owned company based in Pennsylvania. Their focus is on all-natural, sustainable, locally-produced jams, marmalades and a few other things. Everything is made from scratch with no artificial ingredients or preservatives. Their ever-evolving product selections are dependent upon the variety and abundance of seasonal, all-natural, no-spray and organic harvests.

Their jams pair really nicely with our local Goat Lady dairy cheeses and a French Baguette. Eat This Peach Habanero Jam has a great kick and is especially impressive for a dinner party.
Also, back by popular demand our our Ladies-fit Table t-shirts!
Explore our Market for some truly unique items for the kitchen and home. Our shelves are always re-stocked with great new things.
Barista's Pick: Sweet Valley High II & Kabeywa
Saying our baristas are passionate about quality coffee is an understatement. This month they are featuring two stunning coffee roasts from Counter Culture (Durham, NC). Take a bag home with you today while they're fresh!

"This is the second iteration of the Sweet Valley High blend—once again pairing coffees from the Haru and Idido Cooperatives in Yirgacheffe, Ethiopia. Just a few miles apart on either side of a small valley, their coffees can exhibit very distinctive flavor profiles. Haru brings crisp florals, tea-like notes, and a mild citrus flavor to this great blend. Idido brings a melony fruit character with brighter citrus notes, creating a juicy sweetness. This sunny combination is the embodiment of summer."

"Grown on the northwestern slopes of Mt. Elgon in Uganda, this natural sundried coffee is the result of trial experiments and our collaboration with our partners at the Chema washing station. With flavors of dried berry, grape, and chocolate, this special-preparation lot is sourced and named from the Kabeywa community."
BAKERY
From The Table (Asheboro)
Menu Items Available for Pre-Order:
Rustic Apple Tart - $28
9" Chocolate Pie - $22
9" Key Lime Pie - $22
9" Cream Cheese Pound Cake (layers filled with vanilla, chocolate or berry buttercream) - $45
Wild Blueberry Poundcake - $35
Flourless Chocolate Whoopie Pie (filled with vanilla buttercream) - order minimum of 6 @ $3.50 each
Bakery Retail: Shortbread, Coconut Macaroons, Lavender Tea Cookies, Wild Strawberry Marshmallows
_________________________________________________________________________________
From The Table on Elm (Greensboro)

Strawberry-filled Croissants and Lemon Pound Cakes are our special throughout the summer. And you can always indulge in all of our usual sweet treats and Bakery Retail freshly prepared daily.
 
*Call either Table location 2 business days in advance for any PRE-ORDER items. Please note that each Table location has differing baked goods and retail available.
EATERY: A Note from Executive Chef Deanna
"Summer evenings at The Table are wonderful and full to the brim. I can't thank our evening patrons enough for coming to dine with us. And to our Eatery Team and Kitchen Personnel behind the scenes, I appreciate all that you do to make The Table perform to its best ability!

Please do try our Summer Brunch French Toast that just debuted last week. It is served with a warm peach sauce, fresh blackberries and toasted almonds. Also, our best-seller at Lunchtime is our Roasted Vegetable & Mozzarella Sandwich; have you tried it? As always, it is a pleasure to serve you."

Check out our website here to see our full Breakfast, Brunch, Lunch and Dinner Menus.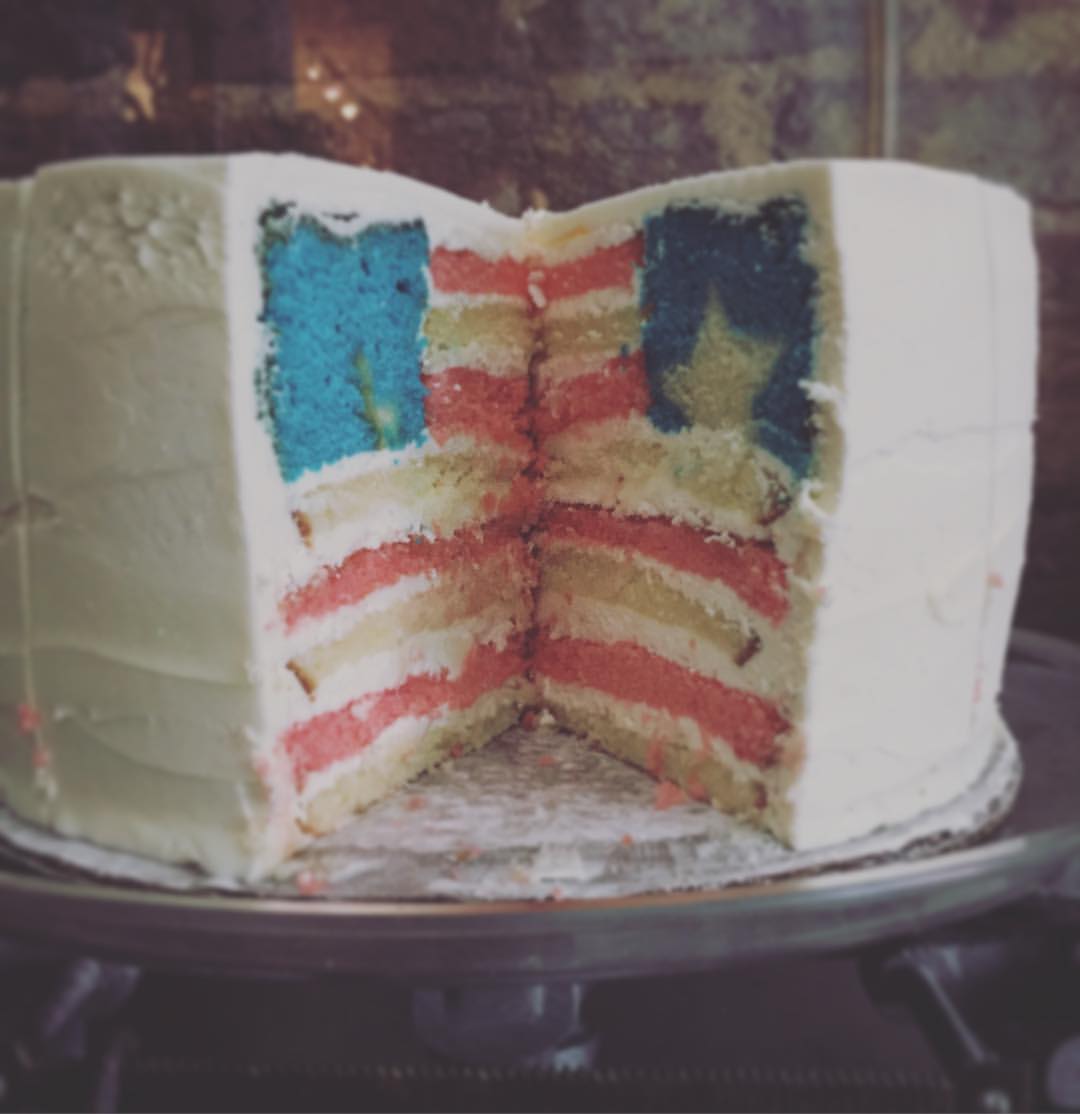 Please take note that both Table locations will be closed Tuesday, July 4 and Wednesday, July 5 in celebration of Independence Day.

Please come dine with us on Saturday, July 1 if you're not already at the beach! We'll have our full Brunch Menu available, plus some incredible burgers and other specials for Dinner that evening.

We will re-open on Thursday, July 6. Have a fun July 4th Weekend, and God bless the USA!
HAVE YOU HEARD THE NEWS?
The Square on Church
"Once [Jerry Neal and Dustie Gregson] began brainstorming, they realized Neal's purchase opened up the scope of The Mill 133 project to more than just saving and renovating one building. 'If you look at the overview, it does create a square if you tie-in the smokestack and the mill,' Dustie said of the overall campus that also includes Neal's building and The Table. 'So we're going to be referencing the area going forward as The Square on Church.' In addition to the properties, The Square on Church will include landscaped pedestrian-centered areas for the community to enjoy...

Within a couple of years, the newly created pedestrian areas will tie into The Mill 133, which will be a mixed-use facility to include retail, restaurants and, if Gregson is able to realize her full vision, an inn. "We wanted it to be a space in which the community as a whole could come and create revenue; a destination for the city; employment," Gregson said.

"There are so many attractive things in the city, and the city's growing," Neal said. "I think [Asheboro] has the attitude of wanting to be a destination. With the bypass around town, it's going to be easier to get here. We need a core-center, where we can have a variety of things that would make people want to come." Neal and Gregson envision that core as The Square on Church."

Visit our website to see more: Mill133.com

Read the full article from The Courier-Tribune here.
The Table
139 S. Church St.
Asheboro, NC 27205
(336)736-8628

HOURS: Sunday & Monday CLOSED
Tuesday & Wednesday 7:00am - 2:30pm
Thursday - Friday 7:00am - 10:00pm
Saturday 7:30am - 10:00pm



The Table on Elm
227 S. Elm St.
Greensboro, NC 27401
(336)542-0395

HOURS: Sunday & Monday CLOSED
Tuesday - Saturday 7:30am - 3:00pm


www.TheTableFarmBakery.com

Follow and Like us on Facebook & Instagram!


Photo credit: Nathan Richards, Justin Moore, Noah Lowdermilk, Anna Naphtali, Montana Lee Photography, Samantha Maske, Andrew Neel, JD Gravitt

Copyright © The Table | 2017